CALL THE MEDLEY FIRM TODAY 334-790-6878
LEARN MORE
ABOUT THE
MEDLEY FIRM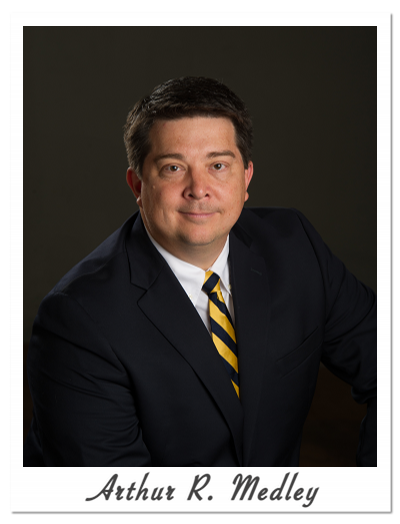 Arthur has years of experience handling criminal cases of all sorts, from DUIs and misdemeanors up to all types of felonies including all Class A felonies such as murder and capital murder.
Arthur has also spent years working in domestic relations dealing with divorces and child custody matters as well as actively pursuing compensation for those wrongfully injured in personal injury cases.
Arthur has gained invaluable experience over the last twenty years that gives him a unique insight on how to effectively defend all types of criminal charges. Working as a prosecutor in the District Attorney's office showed him how to build prosecution cases, this necessarily means he knows how to take them apart too. Arthur has also done a great deal of work under the umbrella of domestic relations – family law: divorce, child custody, adoption, child support and modifications. He is a certified Guardian ad Litem in the State of Alabama. Arthur has taken his years of courtroom experience coupled with his training and education and created a law firm that focuses on seeking justice, one client at a time.

---
I am committed to fighting for my clients to seek justice, relentlessly.

Arthur Medley was born (1970) in Fort Bragg, Fayetteville, North Carolina. Being raised as an "Army-brat" he and his family moved around the southeast living in several States including Fort Knox, Kentucky as well as South Carolina, Georgia and Florida.
Ultimately he and his family wound up in Tuscaloosa, Alabama where his father, Lt. Col. (Ret.) George W. "Buck" Medley, completed his service to our Country in the capacity as the Regular Army Advisor to the Alabama Army National Guard. Arthur would also serve in the Alabama Army National Guard.
Arthur attended high school in Tuscaloosa where he lettered in varsity football, baseball and track as well as being the Key Club President at Tuscaloosa Academy. He graduated summa cum laude with a Bachelor of Science Degree in the College of Business from Auburn University majoring in Human Resource Management.
He was ranked number 1 out of 240 in his class. Always having had an eye on the legal profession and becoming a lawyer Arthur continued his education by attending and graduating from the University of Alabama School of Law where he was awarded his Juris Doctorate in 1997. Arthur is a member of Kiwanis of Dothan where he currently serves on the Board of Directors and he is an active Mason.
Having graduated from the University of Alabama School of Law Arthur and his wife, Tina, of over 26 years now, decided that they wanted to return to Dothan where they had lived briefly back in 1991. Their decision was based upon relocating to a place that they and their three wonderful children could call home. Dothan offered everything they wanted and they chose to stay. As part of his family and community commitment Arthur coached kids' sports teams for Dothan Leisure Services.
He was an assistant coach and head coach for boys' soccer and football teams over the years. As his daughter grew into the age group Arthur also was a head coach for girls' soccer.
Arthur was hired out of law school to come to work in a private practice with local attorney and former judge, the Honorable Don P. Bennett, where he would work until accepting a position with the Henry-Houston County District Attorney's Office in July 2003 under Douglas A. Valeska. After several years as an Assistant District Attorney handling all types of major crimes, District Attorney Douglas Valeska promoted Arthur to the position of Chief Trial Attorney. In the words of Valeska, "He has the trial experience, and he's tried major cases. I'm of the old trial lawyer school, and he's of the modern trial lawyer school … to use technological advances during trial." (Dothan Eagle, September 17, 2008: DA appoints new chief trial lawyer).